Can you make money by blogging? The answer is: yes, you can. There are multiple ways to make money with your blog-type websites. Today, I'm explaining blogging for beginners, and therefore I'll start with the most fundamental and yet the most prolific method: Affiliate Marketing.
What? Don't worry! We'll learn what affiliate marketing is about. But first, let's talk about blogging concept and prerequisites.

Blogging for Beginners.
A blog is a website full of short stories written in a conversational language and informal style on any topic for the audience of similar interests. Blog gets frequently updated, and typically the new stories are displayed at the top. The action of writing these stories and publishing them on the website is blogging. You don't have to be a writer in order to be a successful blogger. You simply communicate with your audience in a way you would with your friends and family. You should, however, envision who your readers are going to be, and create the content that would be interesting, informative and helpful for them. Anyone, who can tell or rather think a story and type it even with one finger at any speed, can blog. Person of any age and any physical abilities can blog.

It's that easy! Or… is it?

Numerous questions must be rising in your head right now! Many BUTs and HOWs come to your mind, don't they?
But I am not technical at all.
But I don't know computers that well.
How do I create a website?
How do I add my text to the website?
But what if I want to add a photo or a chart to my blog?
How much does it cost to run my own website?
All these questions may be scaring you away… But hold on until you read the answers. Yes, if you were building your website 15-20 years ago, you'd need to be tech-savvy. Nowadays, however, there are services, which make it extremely easy for any person to create and manage his/ her own website. These services offer a friendly and intuitive user interface and a visual interpretation for everything a user (you) is creating. They run all the technical processes behind the scene.

You need to know what's involved, but you don't have to do it yourself. There are many free tutorials that explain the basics, and I'll tell you right here and now what's involved and the approximate cost.

Think of a website like a virtual house. A house needs a place: a physical location and its address – so, that it can be found. As a physical location, your website would need a powerful computer always connected to the Internet: a Server. A Server computer can host hundreds of websites, and there are about 75 million Servers in the world. Clearly, your website needs a unique address in order to be found or in the technical term, it needs a domain name.
Thus, for your website you'd need:
Web Hosting Service Provider
There are many providers that offer cheap or even free hosting services. Choosing fast, secure and reliable hosting service is important. That's where you should consider quality over the price. The price could run anywhere from $0.00 per year to over $1,000.00 per year. Depending on how ambitious your goals are, you may want to consider spending annually around $300 – $350 on web hosting, or use all-inclusive solution, which I'll explain later.
Here are a few popular web hosting services, which start at a low price and some of their plans go sky-high in price, but most likely, you won't need the most expensive plans, especially at the beginning.
BlueHost
WP Engine
Wix
HostGator
GoDaddy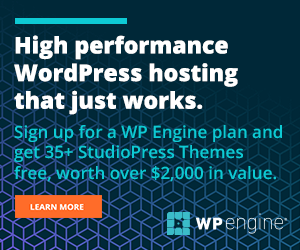 Your web hosting service provider may offer you to use their subdomain for free. If you take advantage of such offer, then the URL for your website will depend on the URL of the service you've decided to use.

For example, Wix.com is one of the most popular website builders and it provides its own free web hosting. If you create a free website with Wix, your URL will look like this: [YourUserName].wixsite.com/[YourSiteName]
where [YourUserName] and [YourSiteName] are the names you make up as you wish, and wixsite.com is the domain name that belongs to Wix.

Every provider that offers you a free website will create a subdomain for you on their own domain.

Most people, especially when they build a blog-based business, would prefer to buy their own domain name, which is catchy and easy to remember. It helps to brand their business. The domain name costs $10 – 15 per year – it's not a big expense, and is definitely money worth spent.

You can come up with any name for your domain as soon as it is not already taken by someone else. The domain of my website where you are reading this blog is LiveWealthyRetirement.com

Website Building and Managing Tools.
This kit should include an automation tool to build a website for you – an empty base for the 'house', to which you'll start adding 'walls, furniture, and decor' (the content and multimedia).
This toolkit would also offer you an editor where you write your content, an easy way to add images and videos, and a mechanism to publish your post to your blog. This mechanism should look for you like a simple button. You finish creating your content, click "Publish" and the magic happens. Voila! You open a new tab in a browser, type in the address box your domain name, and your website's homepage loads in all its beauty displaying your latest post at the top of the blog roll!
Building tools are usually provided by your web host free of charge or its price is included in the annual service price. Many web hosting service providers are utilizing WordPress, which is a free and open-source Content Management System (CMS). However, as I mentioned above, WordPress offers its own web hosting service, WP Engine, and it is NOT free.
On the other hand, Wix.com is primarily known as a simple and yet robust website builder. At the same time, Wix provides its own "free" hosting.
Yes, with Wix you can create your own website absolutely free. As I explained above, it will run on Wix subdomain, which is okay if your focus is on sharing your ideas via blogging rather than on making money.
Of course, Free plans would have some other limitations besides the inability to use your own domain name. Whether you are paying for hosting services or for the website building tools, the Premium plans are never free.

---
Okay, you now know how to blog and what's involved in building your blog-type website.
But who is going to read your content and how people will find your blog?

Before you start doing anything at all, you need to choose your main theme of blogging and think of a group of people you are going to target in your writing – as bloggers would say, you need to choose your niche. Your blog posts don't have to be connected to each other; they would be self-contained stories on different subjects, but you would want to keep them within one niche. You want to address the like-minded people. Your goal is to enable these people to easily find your blog in the first place and then gain trust and authority – so, that they would want to come back again and again. Choosing a narrow niche will make it easier for you to convince your readers that you are an expert on the subject.

It will take some time and practice, but eventually, you'd create a circle of followers and attract more and more traffic to your blog site. Without traffic, there is no point in blogging, and there will be no money.

Understanding Affiliate Marketing.
As I stated in the introduction to this article, the most proven and the most powerful way to monetize your blog is through affiliate marketing. Before I move on to actual money part, let me briefly explain the concept of affiliate marketing.

Affiliate marketing came into play when Internet shopping and offering and receiving services online became popular. While it's convenient for the customers to shop and receive services in the comfort of their home, an essential piece of information is missing when people don't get a chance of hands-on experience. Looking at the picture and reading a short description that comes with a product/service online is often not enough for people to make a decision whether what they are looking at is what they need. Therefore, customers seek additional information. They google the product/ service they are interested in to find what people, who used the product/ service think about it. Often, they don't even know what exactly they need and google a generic term in the area of their interest to find out what exists out there, and what experts suggest. Thus, there is a demand for written reviews on products and services.

Starting 10-15 years ago, more and more businesses realize that in order to thrive, they need a distinct existence in cyberspace. Whether they have a physical location or not, their online presence must be articulate. They also realize that their customers' written feedback is a great advertisement for their products and services. However, many customers' don't find time to write a review when they are satisfied with their online shopping or service they received. When they are unhappy, they are more willing to warn others of a negative experience. Positive reviews given to a business as a courtesy of its customers are often not enough to paint a beneficial for the business picture. Besides, these reviews written by random consumers are often not detailed enough to be helpful for the new customers in decision making.

Therefore, merchants and service providers started creating and utilizing Affiliate Marketing programs. Affiliate Marketing is an online tactic where the business owners offer commissions to people who sign up as affiliates and recommend their products to customers. Every year more and more businesses open up their own affiliate programs or join affiliate networks.

With affiliate marketing, you don't need to have storage space, carry any inventory, deal with delivery, support, and other headaches like that. You simply drive your readers to the merchants or service providers.
Actually, I wrote a blog post on affiliate marketing when I was involved in it for less than half a year while still learning and building my website. I just reread it, and I think it explains the concept pretty well in a simple language. It also points out to the source where I received my step-by-step training — still the same all-inclusive platform that I mentioned above and will tell you about later.
Can You Make Money by Blogging?
Oh, yes! You certainly can!

We discussed what blog and blogging are, and what's required to run a website. I explained what affiliate marketing is and how that process works. Let's now put pieces together and make the picture whole.

Your reader is a potential customer. It doesn't matter what niche you choose for blogging, there is always a possibility to offer something to your audience that can be purchased: a piece of equipment or garment, a book, CD/DVD, a training program, a travel accommodation or a tour, etc.

There are 4.4 billion Internet users in the world, and the number is constantly growing. Your readers and customers are not defined by any geographical location. Your audience is the entire Internet. With over 4 billion potential readers and customers, any niche could be lucrative.
You, the blogger, search and find affiliate programs in the subject of your writing and join those programs. Almost all independent companies, including major companies such as Amazon, Walmart, AliExpress, Etsy, Target, eBay, Nike, etc., have their own affiliate programs or participate in Affiliate Marketing Networks. There are hundreds of thousands of affiliate programs and over 550 million products that you can promote as an affiliate. Once you join an affiliate program as a publisher, you will be assigned your personal unique affiliate link to that online store.
Your Blog or your website is your storefront. As a result of someone buying through your blog using your affiliate link, you get paid a commission. The product your reader purchases doesn't even have to be the one you promoted: as soon as a customer came to a store via your affiliate link, you get paid. The commission can be anywhere from 1% to 75%. As an example, Amazon pays around 5% to its affiliates.

Affiliate marketing is the most reliable, sustainable and lucrative way to make money by blogging.

How Much Profit Can You Make by Blogging?
I said above that it doesn't matter what niche you choose, you can always find some product or service to promote in your niche. Considering a number of Internet users in the world, every niche could be lucrative. That's absolutely true!
However, the amount of money you make is affected by your focus on generating revenue. If you only focus on sharing your vision in the content of your blog and forget to use affiliate marketing techniques and affiliate links in your posts, your blog will not make any money at all. Your revenue will also depend on your experience and skill level on optimizing your blog for Search Engines. It is also affected by how well you know the subject, whether your content reflects readers' interest, and whether your blog is competing with big authority sites (such as government, renown magazines, reputable financial institutions, etc.). To make more profit, you need to bring in more people and promote either many inexpensive items, or maybe fewer, but more expensive and in high demand products or services. There are certain rules and tricks to accomplish an effective technique for bringing in and keeping your readers. You write for humans, but then you need to tune up for Google, Yahoo, and Bing bots. Your goal is to have your blog posts on the first few pages in Search Engine Results Pages (SERP).

There is a little bit of science that needs to be learned, and you'd need some practice before you'd be able to make money. You'd also need the help of a keyword analyzing software; the good programs are usually not free. Here is an example of keyword research software called Jaaxy. Click this link or the image for its 30 keyword searches FREE trial version

If you like writing, and the main goal of your blogging is to share your ideology, views, and experience with others, you can use free or cheap services to host your blog site and to help with your keywords. Bits and pieces of information on the best affiliate marketing and SEO (Search Engine Optimization) techniques are available for free. You can save money on training by doing your own research. If you spend time on familiarizing yourself with SEO fundamentals and other rules of attracting traffic, and use your knowledge in your blogging, you'd be able to generate revenue.

If your main goal is to earn money by blogging, consider investing in
Secure and reliable web hosting that also offers a substantial and easy-to-use set of tools for creating your blog site
Your own domain name, which will contribute to your brand
Sufficient keyword research software
Training
Even if you choose to educate yourself and save money on training, you'd need to invest at least $500.00 in starting a full-scale lucrative online business. $500.00 is almost nothing for starting a business, don't you agree?

Blogging and affiliate marketing could earn you as much money as you set your mind to. Not immediately, but once you establish yourself online as a trusted source, it could be $1,000.00 per month or it could be $10,000.00+ per months, depending on time and effort you are willing to dedicate to your business.

The beauty of making money by blogging is that an article written once will earn revenue over and over again. This is called "residual" or "passive" income.

In conclusion…
In this article, I outlined the basics of making money by blogging via affiliate marketing. The scope of this post cannot possibly offer you detailed training.

As an alternative solution to gathering all the services, tools and knowledge on your own, I can suggest starting where I've started almost two years ago: at Wealthy Affiliate. You can click on the link in the previous sentence to read a full review of the company.

Wealthy Affiliate is an all-inclusive platform that offers excellent web hosting, tools and instructions on creating your blog site, step-by-step affiliate marketing training for beginners and advanced marketers, 24/7 support from the world-wide community of entrepreneurs, personal support of the founders Kyle and Carson, technical support for your website, advanced training in all possible types of online business for Premium members, weekly live webinars by an expert-entrepreneur, and much more.

FREE Starter membership is available. If you are blogging because it's your passion, mostly for the sake of reaching out to like-minded people, that's your best option!

At Wealthy Affiliate as a FREE Starter member you'll get two free websites on company's subdomain, tools and training to build them, free hosting, 10 free lessons in "Online Entrepreneur Certification" course and 10 free lessons in "Affiliate Bootcamp" course with text and video presentation. This should be sufficient for you start blogging and earning.

If your goal is to build a real lucrative online business, join Wealthy Affiliate for FREE (use the button above) and upgrade to Premium membership at any time. For a monthly or annual (discounted) fee, your resources are practically unlimited. There is more information than one can possibly consume within a year. You get hosting for 25 websites on company's subdomain and 25 websites on your own domains. This means that you can create and sub-host websites for your own clients as most likely you won't use 50 websites yourself.

Please leave your comments and/or questions in the comment field below. I usually respond within 24 hours.

Happy Blogging!